Item #210
Choose either an oval or a rectangular cradle basket on any of our cradles.

The oval cradle basket is 24"w x 32"l.
The rectangular cradle basket is 18"w x 36"l.

78" tall (6'6")
Graceful overhead arm.

Securely hand-forged wrought iron.

Traditional workmanship.
Non-toxic finishes.
Meets or exceeds all safety requirements of the U.S. Consumer Product Safety Commission.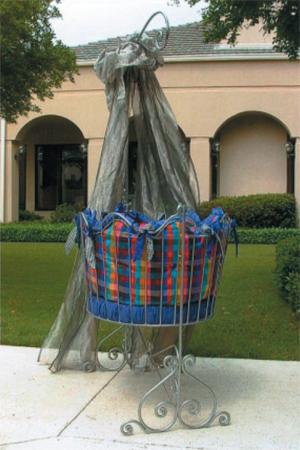 Pictured finish: Polished Steel
Also offered in White Crackle, Ivory Crackle,
White Glossy, Ivory Glossy, Rust or
custom finish.
Pictured bedding: Bright Silk Checks